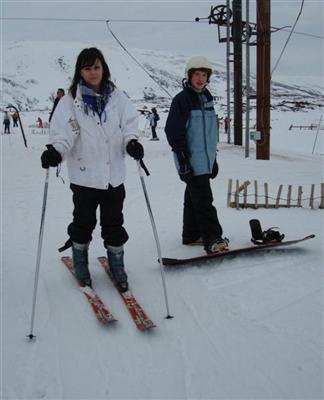 After excellent instruction from 'Cairnwell Mountain Sports' on Saturday morning the Explorer Scouts were able to enjoy 2 fantastic days skiing on the slopes at Glenshee.

All runs were complete with snow up to the tops of the piste fences - none of the usual icy or grassy bits to avoid!
It was a pleasure to have the freedom of the full piste - and lots of them!

Although it was slightly misty on Saturday morning it was never windy or raining.
Sunshine broke out at lunchtime giving spectacular views across the Cairngorms.

As there was a disco at the Blairgowrie Guide HQ where we were staying Saturday evening was spent at Alyth, the 'coldest Scout HQ in Scotland' but we soon warmed up with a trusted corned beef hash.