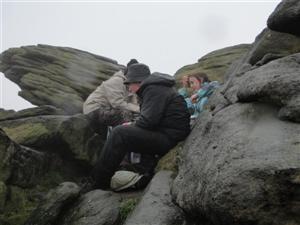 This years Winter Weekend was forced into an emergency new location this year due to flooding in the Lake District where we had booked a hut.
In order to still hold a weekend we stayed at our own HQ instead. Due to this the activities where significantly different to usual.
We started with a Wide Game at Linnet Clough on the Friday night. Then slept over on the hut floor. On the Saturday we went to the cinema in the morning then on to the Museum of Science and Industry in the afternoon, heading back to the hut for a Pizza and chips tea and another film.
On the Sunday we went walking, which is where these pictures were taken.