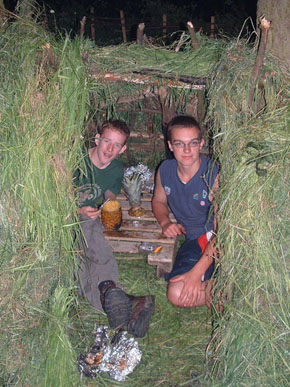 Survival Camp is aimed at giving a range of survival techniques to the Scouts using simple items that nature provides.

Each Scout can take a bivvy bag (the orange bags that people are asleep in below) and a survival kit, containing; matches, cotton wool, a knife and other useful items.

They must build a shelter from trees, leaves and grass, and cook on a fire. Food is provided and ranges from chocolatey pineapples, to ungutted fish, and must be prepared and cooked (under supervision) by the Scouts themselves!