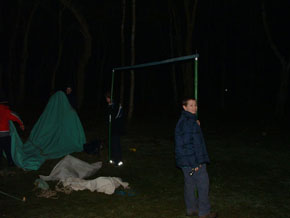 Scouts' Troop Training Camp is the first fully outdoor camp of the year and is used to teach or refresh the skills needed to camp for the rest of the year. For this reason we spend the whole weekend on site. Activities revolve around traditional scouting; cooking, firelighting and pioneering.

Knife, axe and saw work also feature on the programme, making the firelighting easier. Pullies were also demonstrated in our rope bridge, which we then had fun playing on.

Nightime activities included a campfire and a wide game.


Click on a photo to enlarge it.