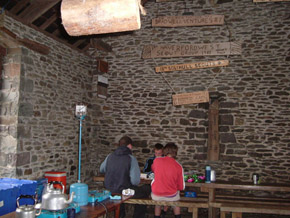 The annual Explorers' Easter Weekend away was held near Llandovery in Wales this year. We stayed in a Scout owned hut on Forestry Commission land. The accommodation was basic; a roof, a floor and 3 and a bit walls, with a rayburn stove in one corner.
We arrived late on Thursday night after a few wrong turns and went straight to bed.
On Friday we went walking, climbing various hills around The Brecon Beacons NP. Saturday was a very relaxed day with our meals being cooked on fires. This brought out some unusual and new varieties of food.
On Sunday we went caving in the morning and gorge walking in the afternoon, both were challenging and fun.
On Monday we went to a red kite wild bird centre and then to a camping exhibition on the way home.