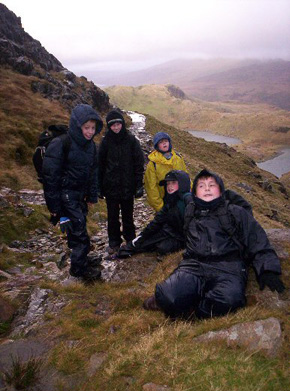 This years Winter Weekend was spent in Bethesda in Yr Hen Neuadd (The Old Hall). We had some difficulties finding the place, despite it being on the main road through Bethesda and the Nant Ffrancon Valley. Soon though we arrived and turned in for the night.
Saturday morning in true tradition, we set out on our hikes. Three groups went on various routes around the Snowdon area and on Snowdon itself but due to nasty weather, did not ascend to the top. We broke with tradition this year however by getting back to the hut before dark!
Sunday found us visiting Seaquarium at Rhyl, we watched rays get fed and saw a variety of other aquatic creatures. One of which looked like Nemo! The walkway through a glass corridor in one of the fishtanks had to be one of the best points of the visit. After Rhyl we headed for home.