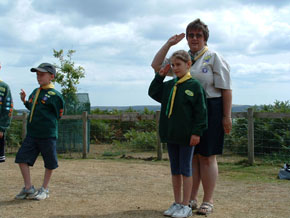 The theme for this years Cubs' Summer Camp was Naturequest and was held at Braggers Wood in The New Forest.

Click on any of the days below to see more pictures from the activities.
On Sunday the Cubs travel by minibuses from Manchester to Braggers Wood.
The activities began on Monday with a visit to Bolderwood to view the wild deer and a visit to The Reptillary to view Adders and other Creatures native to the New Forest.
Tuesday morning was spent at the owl centre and the afternoon was spent swimming.
Wednesday was a day with onsite activities that included; archery, climbing, spiders web, minefield and a variety of crafts.
On Thursday the Cubs visited Brownsea Island via a ferry from Sandbanks. After swimming in the sea at Studland Bay they went for fish and chips in Bournemouth.
Cycling was the main activity on Friday in The New Forest. Bug finding and a walk were also on the Programme.