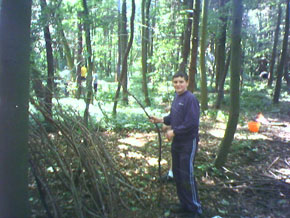 This years Survival Camp was held at Scarcliffe woods near Chesterfield. The site has no facilities so this really is true survival.
Scouts are allowed to take a bivvy bag (a large orange plastic bag for sleeping in), a knife and a survival tin, containing matches, cotton wool and a few other useful items. Food is provided and cooked on fires that the lads build.
No pans or tents are allowed so nature has to provide for us. Using trees and ferns a shelter can be made to withstand rain and wind. Good job it didn't rain then! Food is cooked in small groups using ancient techniques, also known as tin foil. After cooking and sleeping there isn't much time for any other activities so keeping the fire going fills time.