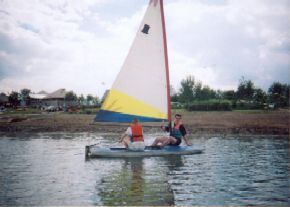 This years Sailing weekend was held at Drum Hill Campsite near Derby.
On Saturday morning we went shooting at Drum Hill's very own indoor shooting range. We all got to shoot air rifles and some of us got to use pistols as well.
After lunch we set out for nearby Carrsington Water. Half used toppers whilst the others used canoes. At 4:30pm we hired a Wayfarer, this is a 3 man boat with a large sail. At 6pm we set off back to Drum Hill.
On Sunday we took down the canvas and packed the van ready to go back to the HQ.