St. ANN's HOSPICE....


Dear Parent/Supporter,

The 3HG Scout Group have again been invited to assist with distributing leaflets in Hazel Grove on behalf JustHelping. Locally this charity supports St Ann's Hospice. The purpose is to appeal for donations in exchange for collecting and recycling Christmas trees and last year we were part of the scheme that raised over £11,000.....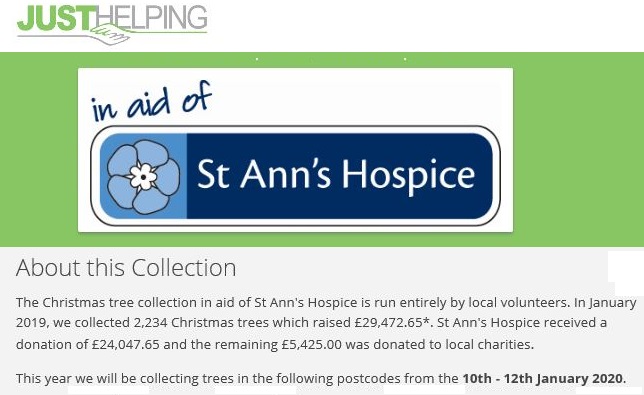 There are many available rounds if you fancy walking off the turkey and Christmas pudding with your child at the same time as doing a good turn for the community!
Please contact Brian Dooley 0161-285-0953, or Dave Phillips 01625-876993 for leaflets if you can help.
The leaflets are for posting ideally after 27th (i.e. when the present wrapping paper has been tidied away!) and before the '12th night' on January 6th.

NOT ONLY BUT ALSO......
......THE CHOICE IS YOURS!
3HG ARE OFF TO THE WORLD JAMBOREE 2019!

3rd Hazel Grove Scout Group are sending a representative with the County contingent to the 2019 World Jamboree in North America.
Fundraising has started and Christmas tree recycling has been chosen as one of the income sources
Donors of Christmas trees for recycling will have the Scouting Jamboree or St Ann's Hospice as their chosen charity to support. Hopefully both charities will be successful.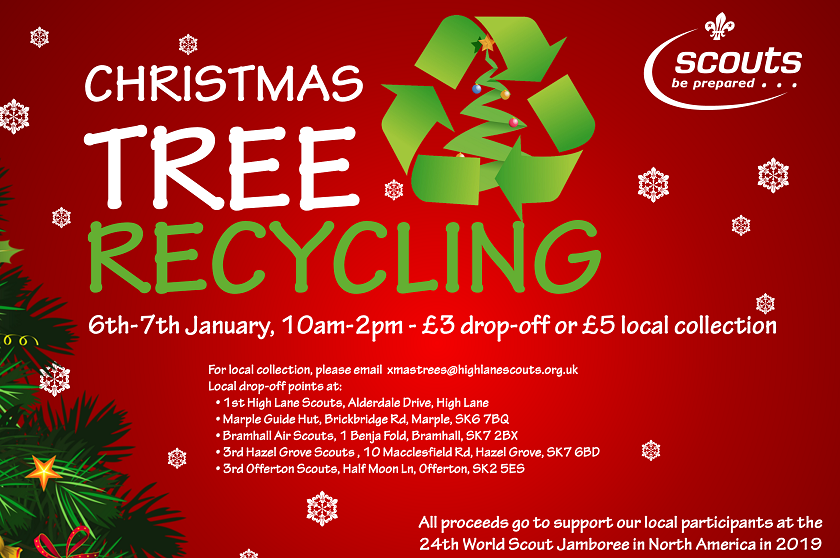 Please email to register for the Jamboree collection.
Thank you for any assistance you can give us to help these worthwhile causes.
I wish you all a Merry Christmas & New Year and I look forward to seeing you at our Group Dinner at the HG Golf Club on 13th January!
Brian 'Tom' - GSL